It's funny that right after I write a post defending religious art, I come across an item that pretty much contradicts everything I write: Christian rap. Maybe I'm making a huge generalization here, but, from what I have heard, it's a genre filled with more than a few talentless "artists".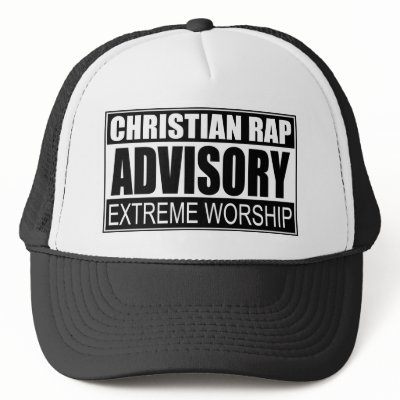 Christian rap: it's like a parody in and of itself.
This issue was jogged in my mind by a recent event at a public school, where a power-hungry principal decided to try his hand at a little prosthelytizin'. How? By
inviting Christian rapper
B-SHOC:
A public school in South Carolina flagrantly violated the Constitution recently by holding a Christian rap concert for students on school property during school hours. While most people would go to great lengths to avoid being caught breaking the law, footage of the event, believed to be taken by the event's organizers, was posted online. […]
"Because of this, people in public schools are going to get to know who Jesus Christ is," Bryan Edmonds, also known as Christian rapper B-SHOC, declares in a YouTube video that evinces a series of truly shocking constitutional violations. B-SHOC explains in the video: "324 kids at this school have made a decision for Jesus Christ. I don't know if it gets any better than that.[" …] New Heights Middle School in Jefferson, South Carolina, featured the rapper during an assembly that took place earlier this month. B-SHOC's catalog of songs includes titles such as "Jesus Lean'," "Crazy Bout God," and "Christ-Like Cruisin." […]
Public schools are not Sunday schools. School officials should not be promoting religious beliefs to students. They should be protecting students from this type of unconstitutional religious coercion. Instead, the school used its gym as a pulpit in a blatant attempt to convert students to Christianity. James Madison and Thomas Jefferson, the architects of the First Amendment who railed against governmental efforts to indoctrinate citizens, would B-SHOC-ked.
I completely agree with that summary by the American Civil Liberties Union. However, I wanted to hear some of Mr. B-SHOC's music for myself. Despite having a flagrant disregard for the Constitution, maybe his music is good.
SPOILER ALERT:
It isn't. Here's "Jesus Lean":
You can hardly judge an artist on ONE song. Let's take a look at "Christ-like Crusin'."
SPOILER ALERT:
You could have judged this artist based on one song. Take a gander:
I swear, I have never heard such abuse of an auto-tuner. Of course, this isn't the first time that Christian rappers have made total fools of themselves. Remember "Gimme Dat Christian Side Hug"?
…or that one guy who tried to save Eminem's soul by dissing him?