Take a look at the following advertisement for Dunkin' Donuts: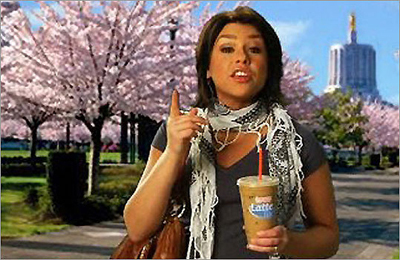 If you didn't notice anything scary about this Rachel Ray commercial, then you probably hate America.
Or, that's what I
would say
if I were Michelle Malkin, a conservative hack.
In 2008,
she wrote
:
The keffiyeh, for the clueless, is the traditional scarf of Arab men that has come to symbolize murderous Palestinian jihad. [...]
The scarves are staples at anti-Israel rallies in San Francisco and Berkeley. [...]
It's just a scarf, the clueless keffiyeh-wearers scoff. Would they say the same of fashion designers who marketed modified Klan-style hoods in Burberry plaid as the next big thing?
Of course, a simple
Wikipedia search
proves this stupid statement wrong:
The tribes of Israel, and their Jewish and Samaritan descendants, have worn variations of the keffiyeh since biblical times. This practice was not unique to the Arabs, as the wearing of headgear is a universal practice amongst Semitic peoples and a logical protection against the harsh Mid-East sun. From the biblical and rabbinic sources it can be deduced with certainty that the ancient Israelites wore headgear similar, if not identical, to the keffiyeh (كوفية) still worn by Arab and other Semitic peoples. Variations of the Jewish Keffiyeh (كوفية اليهود), also known as a Sudra, were worn by Middle-Eastern Jews from ancient until modern times.
Of course, the facts don't matter. Michelle Malkin used racism, xenophobia, and religious bigotry to rile their base by attacking a fairly conservative business into removing a mundane advertisement.
Maglalang "Michelle" Malkin has established her place within the conservative blogosphere as the Filipina version of Ann Coulter. However, unlike Ann Coulter, Michelle Malkin uses her unique status as an Asian-American to discuss race issues in a well, racist (and conservative) manner.
During the 2008 presidential campaign, she made some terrible remarks about the people who supported then-Senator Hillary Clinton. Keith, take it away:
Of course, her racism is not limited to stupid statements on right-wing propaganda outlets. Just take a look at one of her fine
pieces of literature
:
Yep, her book is called
In Defense of Internment: The Case for 'Racial Profiling' in World War II and the War on Terror
. Malkin, herself,
summed up
the book:
To make amends for this "shameful blot" [of Japanese internment] on our history, both Japanese-American and Arab/Muslim-American activists argue against any and all uses of race, ethnicity, nationality, and religion in shaping current homeland security policies. Misguided guilt about the past continues to hamper our ability to prevent future terrorist attacks.
Fred Toyosaburo Korematsu (是松 豊三郎), a Japanese-American man turned activist who actually was interned and sued the US government,
replied
:
According to Malkin, it is OK to take away an entire ethnic group's civil rights because some individuals are suspect. [...] It is painful to see reopened for serious debate the question of whether the government was justified in imprisoning Japanese Americans during World War II. It was my hope that my case and the cases of other Japanese American internees would be remembered for the dangers of racial and ethnic scapegoating.
There are definitely more examples, but those are really the ones that came to mind. This brings us up to today, where the news that rapper M-Bone has
died
. He was most noted for his (quite annoying) song "
Teach Me How To Dougie
". Michelle Malkin's totally insensitive
blog post
on the issue perfectly mirrored the racism found in the faux-controversy when Common was
invited to read a benign poem
at the White House. While Michelle Malkin uses every instance to slander people of color, the greatest irony of all is her own family benefited from the very same anti-discrimination and immigration laws that she would probably oppose if they were proposed today.